WHAT IS AND ADVERSE ACTION NOTICE AND WHAT TO DO IF YOU GET ONE?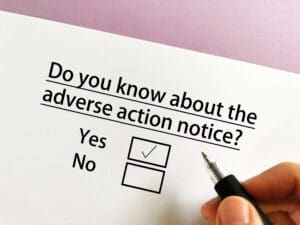 We live in a society that runs on credit and credit reports. Besides the obvious ways that credit is used—to buy goods and services today and pay for them tomorrow—credit and credit reports are increasingly being used for a whole lot more.
Credit and credit reports are also used to vet individuals' employment and housing applications, determine their eligibility for insurance, and to set rates and prices, among other things. Inaccurately reported credit information can weaken or destroy your ability to obtain credit, costing you in many different ways. Therefore, you must take active steps to protect your rights and ensure that the information on your credit report is accurate by assessing the adverse action notice that creditors in New York City and around the country are required to provide you and knowing what to do if you get one. In many cases, you may have to use the law to have any inaccurate information changed or removed.
What is an Adverse Action Notice?
If you apply for credit, insurance, employment, or some other benefit and are denied because of information contained on your credit report, you must receive a notice of adverse action from the lender, insurer, or employer. A notice of adverse action is a letter that informs you that your credit-based application has been denied and specifies the reason why, as well as which credit reporting agency or agencies provided the information the creditor used to make its decision. Under the federal Fair Credit Reporting Act (FCRA) and the Equal Credit Opportunity Act (ECOA), a creditor must send you an adverse action notice whenever the following happens:
1. Your application for credit is denied;
2. Your application for credit is adversely approved, i.e. you apply for one type of loan, but the bank or lender approved you for a different type of loan with less advantageous terms. For example, if you apply for a 0% offer, but the lender only approves you for a 12% offer.
3. The terms of your account are negatively affected, i.e. your interest is rate increased, your credit limit is reduced, etc.
The FCRA also requires a creditor to give notification if a consumer's insurance application or policy, employment application, or terms or any government license or benefit is adversely affected by a credit report.
The creditor's obligation to send you an adverse action notice is a legal requirement under federal law. It is not a choice. ECOA requires a creditor to send you an adverse action notice within 30 days after receiving your completed application for credit, or 90 days after making a counteroffer to your application for credit that you did not accept.
If a creditor does not send you an adverse action notice as required by ECOA, the creditor may be liable to the consumer for actual and punitive damages, as well as reasonable attorney's fees and costs.
What is Contained in an Adverse Action Notice?
An adverse action notice must contain certain information about your application and the information used by a New York City or national bank or lending institution as a basis for making their decision. This information must include:
The name of the credit reporting agency that supplied your credit report;
A statement that the credit reporting agency did not make the decision regarding your application for credit;
 A statement informing you that you have 60 days to request a free copy of your credit report from the credit reporting agency that issued it;
 Information regarding your right to file a dispute with the credit reporting agency to have any incomplete or inaccurate information contained in the report corrected; and
·Information regarding the credit score that was used as a basis for the adverse action taken against you. This includes your actual credit score, as well as, where it ranks nationally amongst other consumers' credit scores.
What to Do if You Receive an Adverse Action Notice
Anytime you get an adverse action notice from a lender, it means that something on your credit report (or the aggregate of the information it contains) was problematic enough that the lender chose to deny you whatever credit you applied for or make some other negative decision regarding your account (e.g. lowering your credit limit, increasing your interest rate, etc.).
Receiving an adverse action notice does not oblige you to respond to it. However, if you believe that information on your credit report is incorrect and want to take action to have it corrected, you have the right to do so.
To correct an error on your credit report, you will need to contact the credit reporting agency. In the United States, there are many reporting agencies that collect credit histories and other information, but the big three nationwide agencies are:
Before contacting the credit reporting agency, prepare the following:
Your personal contact information;
An explanation of the mistake and why it is an error;
Any evidence you have that supports your dispute; and
Your report confirmation number, which can be found on your credit report.
Although you can dispute your credit report over the phone or online, it is a good idea to do so by certified mail, return receipt requested. Remember to save copies of all documents and communications related to the dispute.
Once you have filed a dispute, the credit reporting agency has a duty under the law to investigate the dispute, unless it is determined to be frivolous. If after its investigation the reporting agency is unable to verify the accuracy of the disputed information, it must be corrected or removed from your credit report.
If after you have filed your dispute, the agency does not perform a reasonable investigation or refuses to remove or correct incomplete or inaccurate information on your credit report, you may be entitled to bring legal action against the credit reporting agency to recover civil damages, as well as, your attorney fees and costs.
Contact Schlanger Law Group LLP in New York City About What to do if You have Received an Adverse Action Notice
While receiving an adverse action notice is unfortunate, it is not the end of the world. It does not preclude you from applying for credit from a different lender or applying again with the same lender once your credit has improved. Furthermore, the information contained in an adverse action notice can form the basis for disputing any incomplete or inaccurate information on your credit report and can help improve your credit in the future.
An experienced consumer protection attorney can advise you of the tools and resources available to help you dispute errors on your credit report and help you successfully navigate the consumer process. For more information, call (212) 500-6114, or visit our contact page to get in touch with an experienced New York City attorney to safeguard your credit.
Schlanger Law Group LLP serves clients in New Jersey, New York, and throughout the United States with consumer protection, class action, credit reporting, and identity theft issues.