New York City Consumer Class Action Suits Lawyer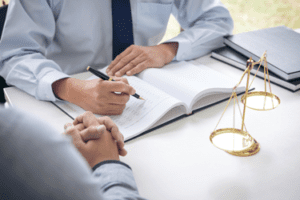 Class action lawsuits level the playing field for consumers who have been treated unfairly. When a business defrauds consumers or provides faulty products, each individual consumer may suffer relatively small losses. Thus, it is difficult or impossible for a single consumer to fight back. A consumer
class action
 lawsuit allows those consumers to join forces and pursue one large claim for damages suffered by all members of the class.
Class action lawsuits are complicated and require a significant investment of resources. Many law firms are not equipped to handle class action litigation. In fact, one of the issues to be determined by the court in certifying a class is whether the attorney or law firm has the necessary skills and experience to effectively represent the class.
The attorneys at Schlanger Law Group LLP have extensive experience in consumer class action cases, including:
Three class action suits against different high-volume debt collection law firms that made false allegations in legal documents
A multi-district product liability class action against a luxury car manufacturer
A class action lawsuit against a high-volume debt collection law firm that continued to pursue collection action after learning that the affidavits filed in tens of thousands of cases had been falsified
A large, consolidated case against multiple fraudulent used automobile dealerships and several finance companies that were aware of the fraud yet continued to enforce the loans
Some of our current cases include:
A class action involving misstatements in boilerplate pleadings filed by a high-volume debt collection law firm
A class action against a law firm issuing summonses that misstated consumers' time to respond to collection lawsuits
For more information regarding Schlanger Law Group LLP Cases visit our results page.
Consumer Class Action Lawsuits
A consumer class action lawsuit may involve any widespread wrong against consumers, from deceptive practices to defective products. Some of the most common include:
Unfair debt collection practices / Fair Debt Collection Practices Act (FDCPA) violations
Defective or dangerous product liability
False and deceptive advertising
Hidden or unlawful fees
Unfair business practices
Violations of the Telephone Consumer Protection Act (TCPA)
The critical common thread is that the company or other entity has violated the law in a manner that caused similar harm to a large number of consumers. In some cases, violations of the law have gone unchecked for years, and impacted tens of thousands of consumers.
Class Action Lawsuit Process
A class action is typically commenced by an individual or a small group of individuals who have suffered some harm at the hands of a large business or other entity. The challenged actions may violate federal, state, or local law. The lawsuit is brought on behalf of not only the named plaintiffs, but also "on behalf of all others similarly situated." This means that the named plaintiffs must allege that the wrongdoing at issue is common to a larger group of victims, beyond themselves.
The named plaintiffs, through their attorneys, eventually ask the court to "certify a class," meaning to find that the issues really are common to the larger group, and to allow the named plaintiffs and their attorneys to move forward and litigate the issues on behalf of all similarly-affected consumers. For example, a class might include every person in a state or in the United States who was charged a fee in violation of their credit card agreement, or an interest rate higher than that allowed by law.
In addition to monetary settlements or awards, class action orders and agreements often include provisions requiring the company to suspend unlawful practices, provide improved information to consumers, and otherwise improve their business practices and interactions with consumers.
Many class action lawsuits settle, as there is often clear and compelling evidence of widespread unlawful practices, and companies are understandably concerned about a finding by a court that they have broken the law. However, even in those cases that ultimately settle, class attorneys must sometimes fight for the consumers' rights for years in long, complex, and often highly technical proceedings. That's why it's critical for the class to be represented by attorneys with adequate knowledge, experience, dedication, and resources to see the case through to the most favorable result possible for consumers.
Consumer Class Action Attorneys Serving Manhattan, Westchester, Rockland and Long Island
Schlanger Law Group LLP has the resources and experience to effectively bring class action suits on behalf of consumers who have been harmed by deceptive business practices, defective products, unfair collection practices, or other violations of state and federal law.
Our practice is dedicated to protecting the rights of consumers in New York City and around the country, and our experience allows us to successfully manage complex class action litigation on behalf of those wronged by large companies. We routinely work with smaller law firms who want to partner with experienced class action counsel to ensure the best result for their clients.
Whether you are a consumer who has been harmed by unlawful business practices or defective products or you are an attorney looking for a partner in providing the best representation to your class action client, we want to hear from you.
Schlanger Law Group LLP serves clients in New York City and throughout the United States with their consumer protection, class action, credit reporting, and identity theft issues.